This
post
was originally published on
this site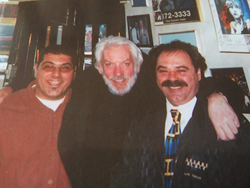 Owners Al & John Carbone with Donald Sutherland
"I'll be back for the pasta," says Keith Richards of the Rolling Stones.
TORONTO May 02, 2018
You know there's something special about a restaurant when, at any minute, an A-list star could cruise in for a plate of Angelhair Basilico, Osso Buco Milanese or world-famous Penne and Spicy Italian Sausage. That's how it is at Kit Kat Italian Bar and Grill. This laid back Toronto fine dining destination that has been the buzz of international entertainment celebrities and local in-the-knows for 30 years. Kit Kat is the type of place where every diner is made to feel like a star.
Named one of the top 10 Toronto restaurants around the iconic CN Tower; Top-10 Best restaurant in downtown Toronto; a TripAdvisor top-rater and "Our Spot" on Girls on Food, this globally-renowned eatery is one of the original and most popular on "Restaurant Row", the bustling vibrant strip in the Toronto entertainment district that lines King Street West. Along with visiting and local entertainment music, movie and TV stars, Kit Kat is within walking distance for theatre-goers on their way to and from Princess of Wales Theatre, Royal Alexandra Theatre and TIFF Lightbox; sports fans taking in a game at Rogers Centre, and concert fans on a night out at Roy Thompson Hall or Air Canada Centre. Kit Kat also caters to the appetites of the lunchtime crowd from the financial district, families exploring Ripley's Aquarium to those attending the Metro Toronto Convention Center, as well as many other major attractions, including A-list downtown hotels.
Kit Kat owes its reputation to larger-than-life brothers Albert and John Carbone, born in the Niagara region and of Calabrian descent, whose signature Southern Italian dishes have awakened the palates of generations of Torontonians and visitors to the city for 30 years. From their sumptuous and hearty Osso Buco Milanese that's the favorite of Little Stevie Van Zandt and the sinful Angelhair Basilico that Shania Twain always orders to Pink's Mussels Arrabiata and Albert Carbone's off-the-charts Penne with Spicy Italian Sausage that Steve (Bobby Baccala) Schirripa loved. Kit Kat is one of the few Toronto Italian restaurants to customize your dishes any way you want, whether it's vegetarian or gluten-free. Deepak Chopra relishes in Kit Kat's famous Indo-Italian coconut curried chickpeas and vegetable medley, Donald Sutherland always opts for a Black Bean Soup and 14-ounce Provimi Veal Chop and Keith Richards chooses the pasta-of-the-day every time he comes in.
Music legends from The Rolling Stones to Bruce Springsteen and Jay Z — and even Larry the Cable Guy have had had Kit Kat cater them when they're in Toronto performing. Other celebrities that drop by the Kit Kat are: Billy Crystal and Steve Nash (they're both into the Roast Lemon Chicken), Ron Howard, Howie Mandel, Marilyn Manson, Paul Simon, Sting, Duchess of York Sara Ferguson — and even theatre royalty Andrew Lloyd Weber, Joan Plowright, Cameron Macintosh have often been spotted at the eatery when they're in town.
The restaurant has a Sardi's of New York vibe, filled with bric-a-brac from all over the world and walls of signed celebrity photographs — and a wishing tree called the "tree of heaven" (Ailanthus Altissima) grows in the middle of the kitchen and up three floors through the roof. The Carbone brothers, along with Albert's wife Cathy and son Max, say many wishes have come true under this tree and the restaurant has photos to prove it — from Brendan Shanahan celebrating with the Stanley Cup to Joe Tory and Derek Jeter of the New York Yankees and the World Series to two big-purse lottery winners from Niagara Falls.
Kit Kat is located at 297 King Street West, directly facing the Toronto International Film Festival TIFF Lightbox Theatre.
Kit Kat is open for Dinner 7 nights a week (Lunch Monday to Friday). For reservations (recommended), call 416-977-4461 or visit us at http://www.kitkattoronto.com, https://www.facebook.com/KitKatItalianBarGrill, Instagram @kitkattoronto.com, Twitter kitkat_toronto