This
post
was originally published on
this site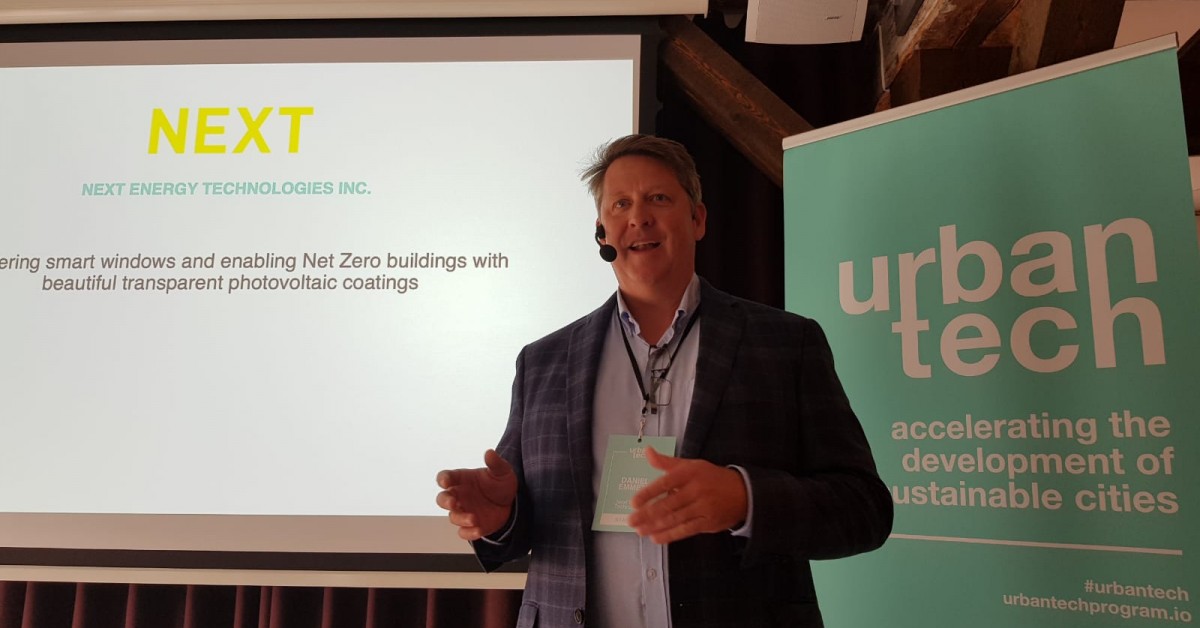 One of only ten tech-startups selected internationally for the Urbantech program, NEXT will receive pilot project and partnership opportunities to accelerate its transparent photovoltaic window technology
Press Release – updated: Jul 11, 2019 15:00 PDT
SANTA BARBARA, Calif., July 11, 2019 – NEXT has been selected by leading companies within sustainable urban development to participate in the 2019 Urbantech Program, an accelerator and technology program aimed at strengthening the development of tech-based solutions for sustainable construction and urban development. NEXT was among the only 2.5% of startups admitted into the accelerator's highly selective inaugural cohort. NEXT, based in Santa Barbara, CA, was chosen for its innovations in transparent photovoltaics designed to advance sustainability of buildings, which currently account for more than 40 percent of global energy consumption.  
NEXT is developing low-cost, printable, transparent coatings that are seamlessly integrated into windows, allowing for the harvest and conversion of light energy for use as onsite renewable power. NEXT joins nine other early-stage companies to accelerate the development of sustainable cities. As a benefit of participation in the program, each company will receive direct access to corporate partners, VKR/Velux, COWI, and EWII, for the exploration of possible pilot-projects to test, validate and advance their technologies. The program offers companies the opportunity to scale their businesses even further with its corporate partners after the program has ended, and be a part of creating the future of sustainable cities. 
"NEXT is at the forefront of an energy and architectural design revolution that we believe will fundamentally transform the built environment – that is why are thrilled to join Urbantech to explore, test, and collaborate with some of the leading Danish companies for innovation-focused pilot projects, partnership opportunities, and as customers," said Daniel Emmett, CEO and co-founder of NEXT. "It's a great validation of our technology and approach to be one of only ten companies selected from the 400 international companies that applied to this prestigious program."  
Launched in 2019 and founded through partnerships with leading Danish companies, the Urbantech program will contribute to the development of new solutions for the cities of the future. Supporting 10 startups each year,it will run over three years out of BLOXHUB, which is part of the newly built, state-of-the-art BLOXcomplex on the Copenhagen waterfront, and home to the Danish Design Center and the Danish Architecture Center. The goal of Urbantech is to help these startups make construction more efficient, buildings and energy systems more flexible and public spaces more multifunctional. Many of the startups also have a focus on how CO2 emissions can be reduced. 
"We are delighted to welcome NEXT Energy Technologies to the 2019 portfolio of companies, who together are developing cutting-edge urban technologies and contributing to Urbantech's vision of creating new solutions for the cities of the future," saidRasmus Bjørn Dahl, Urbantech's Chief Operating Officer at Rainmaking. "NEXT was an extremely strong applicant, and we felt the program would benefit significantly with their participation." 
"We are delighted to have selected NEXT Energy to participate in the Urbantech program and lookforward to collaborating with the team to explore opportunities to incorporate transparent solar power into the built environment," said Christian Wagner, Vice President, Material & Product Technology for Velux. Mads Kann-Rasmussen, CEO of VKR Holdings says of the program, "Innovation and sustainability are important parts of our DNA, and to support this, we'd like to increasingly expose our companies, including VELUX, to startups and the entrepreneurial space." 
About NEXT Energy Technologies, Inc.
NEXT Energy Technologies has developed transparent photovoltaic window technology for seamless incorporation of onsite renewable energy production into the glass facades of buildings, reducing their carbon footprint and enabling resilient, net-zero energy buildings. NEXT Energy's cost-effective solution addresses a major gap in the market and therefore represents a huge opportunity to have impact for shareholders and the planet.For more information, visit www.nextenergytech.com.
About the Urbantech Program
The Urbantech program is an accelerator and innovation program for high quality startups who are creating solutions in urban technology. We accelerate the engagement between startups and corporate partners, so a startup can create meaningful projects with some of the biggest companies in Denmark.What makes the Urbantech experience unique from other programs is that NEXT will be able to draw on the unique Danish strengths within architecture, design and city planning and also have direct access to world-class international experts, technological innovation and business development. Urbantech's corporate partners are COWI, VKR Holding / VELUX and EWII who are all investing both money and time in the program. In collaboration with their own business units, they will work with the selected entrepreneurs to further develop their technology and business. In addition to the business partners, Urbantech is also supported by the philanthropic association Realdania and The Danish Industry Foundation. Urbantech is run by Rainmaking in collaboration with BLOXHUB, Danish Design Centre, Danish Architecture Center and Amazon Web Services. For more information, visit https://urbantechprogram.io/.
Source: Next Energy Technologies, Inc.