This
post
was originally published on
this site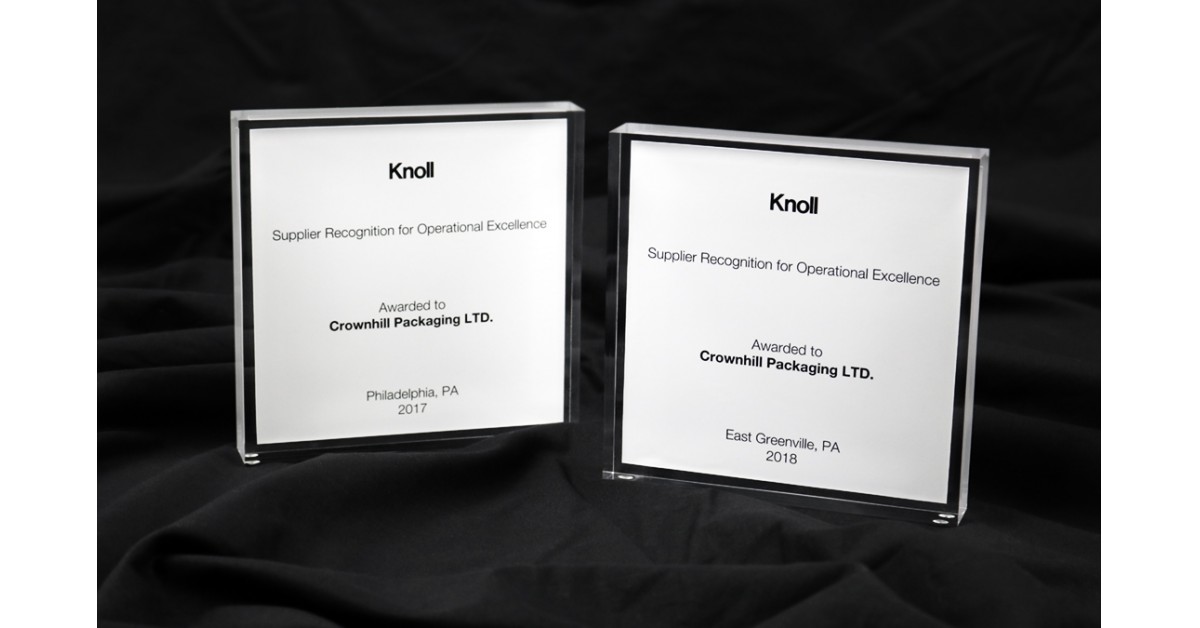 Press Release – updated: Jul 10, 2019 12:00 EDT
TORONTO, July 10, 2019 – For the second year in a row, Crownhill Packaging has received the Supplier Recognition for Operational Excellence from modernist furniture producer Knoll. The award demonstrated Knoll's appreciation of Crownhill's efforts in consistently providing custom packaging solutions for Knoll's unique needs.
The relationship between Crownhill Packaging and Knoll spans two decades and involves a variety of packaging shapes, designs and materials. To accommodate the many unique projects that Knoll takes on, Crownhill uses its industry-renowned talent combined with logistical expertise to ensure the right packaging is delivered at the right time.
"Crownhill Packaging prides itself on our commitment to customer delight and it's an honour to be recognized by Knoll for supplier excellence. We've been working with Knoll for most of our history and we've developed a solid bond with them, consistently receiving input on how current packaging is working out and working with them to create new packaging solutions for upcoming products," said Crownhill Packaging Director of Sales Mike Cancilla.
For more information, please check out Crownhill Packaging's official site at https://www.crownhillpackaging.com/.
About Crownhill Packaging
Crownhill Packaging is a custom packaging distributor with operations in Canada and the United States. The company is committed to always improving its custom packaging consulting, prototyping, fabrication, testing and supply services, ensuring that its customers receive the best products and service possible. Crownhill's expertise in keeping products of high importance protected makes it a key player in the furniture packaging industry. 
About Knoll
Knoll is a furniture and textile design firm that offers stylish yet functional furnishings for the home and the office. The company has featured a packed list of notable historical designers as well as utilizing the expertise of many names presently and is well known around the art world for its modernist design style. Knoll's is a recognizable name in the furniture industry and their products have been prominently featured in film, museums and historical places. 
Source: Crownhill Packaging